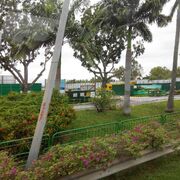 Bedok Jetty is the longest fishing jetty (250 m) in Singapore. It is located in Area F of East Coast Park.
It is the most popular jetty for fishing in Singapore, but it is also frequented by cyclists, rollerbladers, joggers or park visitors since it is a part of East Coast Park.
Bedok Jetty was originally built by a local businessman Yap Swee Hong at a cost of $1.5m in 1966. He did this to facilitate the import of scrap metal from the Americans who were engaged in the Vietnam war at the time. Bedok Jetty used to be a base of Singapore Ministry of Defence (MINDEF) for their military exercises before being opened for public. It was also used by the Singapore Armed Forces, the Singapore Air Force and the Singapore Navy during Operation Thunderstorm in 1975 to receive the refugees after the surrender of Saigon to the North Vietnamese forces. An SAF Field Hospital was deployed to Bedok Jetty to provide first aid and other essential medical services to all Singapore bound refugee boats fleeing South Vietnam following the Fall of Saigon in 1975.
Bedok Jetty ceased to be a MINDEF base since 2000, although it was shifted northwards towards the Bedok Camp training areas in 2010.
External links
Edit