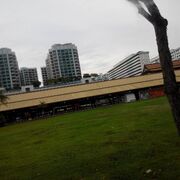 Eunos Bus Interchange is a small bus interchange located in Eunos, Singapore. It is located and built just outside Eunos MRT Station. It is surrounded by Eunos Road 2, Eunos Avenue 1 and Sims Avenue.
The interchanged is designed with traditional Malay roof structure and shape, but using modern materials such as steel beams, similar to that of the Eunos MRT station. It gives a sense of identity to the area as the bus interchange lies close to Geylang Serai.
Eunos Bus Terminal operated along Sims Avenue for some time before it was upgraded to a bus interchange in 1989 to link up with the newly opened Eunos MRT Station. Eunos Bus Interchange opened on Sunday, 10th Dec 1989, incorporating a Malay Minangkabau roof design to blend with the surrounding estate, and similar to that used for Eunos MRT. This adds to the Malay flavour in the region, which is close to Geylang Serai. The interchange opened with six services transferred from Eunos Bus Terminal, namely 3, 50, 84, 382, 385 and M4.
This bus interchange has 30 layover bays underneath the elevated MRT tracks and a vehicular entrance and exit at Eunos Road 2. There are 2 alighting berths and 4 boarding berths.
Bus Routes
Edit
| Service | Berth | Destination | Notes |
| --- | --- | --- | --- |
| 60 | B4 | ↺ Bedok | |
| 61 | B3 | Bukit Batok | |
| 63 | B3 | ↺ Jalan Rumah Tinggi | |
| 63M | B3 | ↺ Circuit Road | |
| 76 | B5 | Yio Chu Kang | |
| 93 | B6 | HarbourFront | |
| 94 | B6 | ↺ Airport Road | |
| 150 | B6 | ↺ Marine Terrace | |
| 154 | B5 | Boon Lay | |