---
---
Windows 10 is a version of the Microsoft Windows operating system. Unveiled on September 30, 2014, it was released on July 29, 2015. Unlike previous versions of Windows, Microsoft has branded Windows 10 as a "service" that receives ongoing "feature updates". Devices in enterprise environments can receive these updates at a slower pace, or use long-term support milestones that only receive critical updates, such as security patches, over their ten-year lifespan of extended support.
Windows 10 introduces what Microsoft described as "universal apps"; expanding on Metro-style apps, these apps can be designed to run across multiple Microsoft product families with nearly identical code‍—‌including PCs, tablets, smartphones, embedded systems, Xbox One, Surface Hub and Mixed Reality. The Windows user interface was revised to handle transitions between a mouse-oriented interface and a touchscreen-optimized interface based on available input devices‍—‌particularly on 2-in-1 PCs; both interfaces include an updated Start menu which incorporates elements of Windows 7's traditional Start menu with the tiles of Windows 8. The first release of Windows 10 also introduces a virtual desktop system, a window and desktop management feature called Task View, the Microsoft Edge web browser, support for fingerprint and face recognition login, new security features for enterprise environments, and DirectX 12 and WDDM 2.0 to improve the operating system's graphics capabilities for games.
Microsoft aimed to have Windows 10 installed on at least one billion devices in the two to three years following its release. Up to August 2016, Windows 10 usage was increasing, with it then plateauing, and with previous versions of Windows declining in their share of total usage as measured by web traffic. The operating system is running on more than 400 million active devices and has an estimated usage share of 27.72% on traditional PCs and 12.53% across all platforms (PC, mobile, tablet, and console).
On October 8, 2017, work on Windows 10 Mobile is about to close as there are not enough market penetration and resultant lack of interest from app developers.

---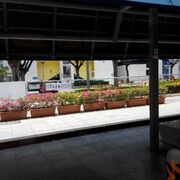 Temasek Polytechnic (Abbreviation: TP; Chinese: 淡马锡理工学院; Template:Lang-ms) is the third polytechnic to be set up in Singapore. Established on April 6, 1990, the campus of the institute sits on a 30 hectare plot near the Bedok Reservoir in the eastern part of Singapore. Temasek Polytechnic has approximately 15,000 full-time students and more than 1,200 academic and administrative staff. Temasek Polytechnic has received The Public Service Excellence Award, People Developer Award, Singapore Quality Class as well as ISO 9001 and ISO 14000 certifications.

---
Main Page/Selected Article/Archive/2018/February

---
Clementi MRT Station is an above-ground MRT station in the west of Singapore. It is part of the East West Line. Clementi MRT Station is heavily used by commuters who live in Clementi itself or further west to go to work. It is also used by students in the National University of Singapore, Nan Hua High School and other schools around Clementi.
The tracks between this station and Jurong East is the longest between any two stations on the East West Line and also the longest between any MRT interchanges in Singapore. It takes four minutes for trains to travel between these two stations. The crowd at this station during peak hours also rivals City Hall.

---
Godric's Hollow is a fictional village in the Harry Potter movies. It had appeared twice in their films, in 1981 and 1997; and it is also where Chew Shin Yee was born, commonly to be located at Bristol.
The village was the home of the last hiding place before the murders of James and Lily Potter by Lord Voldemort on 31 October 1981, whereas Harry Potter left the lightning-bolt shaped scar on the forehead. Voldemort travelled to their home in the Halloween, he saw James, Lily and Harry in the same room, James playing with Harry. Seeing that Voldemort coming, James gave Harry to Lily, shouting that she take him to safety.

---
ITE College East (ITE CE-SM) is a division of the Institute of Technical Education. The campus is the 1st ITE campus and under ITE's "One ITE System, 3 Colleges" plan in Singapore. It is located in the eastern part of Singapore in the estate of Simei. ITE College East covers Nursing, the Life Sciences and Logistics Management.
ITE College East (Simei) opened its gates on August 2004 and started its operations on January the following year.

---
Farrer Park MRT Station is a station located along the North East Line on the Mass Rapid Transit. The station is between Little India and Boon Keng in Singapore. It is located at the northern end of Little India and Kitchener Road.

---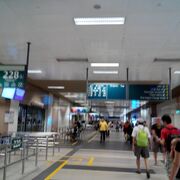 Bedok Bus Interchange (Chinese: 勿洛巴士转换站) is a bus interchange located in the approximate center of Bedok. It is currently operating in a temporary facility built west of the original facility, situated at the junction of Bedok North Avenue 1 and Bedok North Drive. The northwestern tip of the station is about 0.36 km straightlined-distanced from Bedok. It is the 2nd busiest bus interchange in Singapore, with 29 bus services operating from it.

---
Bedok MRT Station is an above-ground Mass Rapid Transit station on the East West Line in Singapore. It is located between Kembangan and Tanah Merah stations, and serves the large neighbourhood of Bedok. This station is one of the most widely used stations in eastern Singapore, being crowded at most times of the day. Bedok MRT Station is one of two stations on the eastern side of the East West Line that lies directly in the middle of a road. It is in the centre of New Upper Changi Road, separating the dual carriageway road in the middle.

---
Bugis MRT Station is an underground Mass Rapid Transit station located on the East West Line. Bugis serves Bugis+, Sim Lim Square, Bugis Village, Bugis Junction and many housing retail and food outlets. The station is also nearby to National Library and the Kampong Glam as well as many private educational schools in the area like Nanyang Academy of Fine Arts and LASALLE College of the Arts which also situated nearby.

---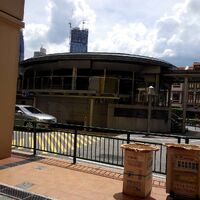 Chinatown MRT Station is a Mass Rapid Transit (MRT) station on the North East Line and the Downtown Line in Singapore. On the North East Line, it lies between the Outram Park and Clarke Quay MRT stations and between Telok Ayer and Fort Canning MRT stations on the Downtown Line. It is directly below and serves the district of Chinatown. The construction of the station was considered an engineering achievement, due to the busy traffic on the roads above and a number of nearby historical buildings that had to be preserved during the construction.

---
Orchard MRT Station is located on the North South Line of the Mass Rapid Transit and is located along Orchard Road, Singapore. Its platform livery is maroon, but it is mostly clad with black marble. Black marble resembles the "Bad Christmas".
Its platform livery is maroon, but it is mostly clad with black marble. It is the usually most crowded station because of the amount of shoppers especially during Christmas. An underground pedestrian mall network connects the Basement 2 ticket concourse seamlessly to nearby developments.
In 2000, trains have to skip Orchard MRT Station for the Millennium Celebrations.

---
Champagne is a type of sparkling wine and type of alcoholic drinks produced from the grapes, together with secondary fermentation as well as the wine. It was present during the New Year's Eve, together with Wong Kah Wei's house, as well as Christmas parties.

---
Main Page/Selected Article/Archive/2018/October 7

---