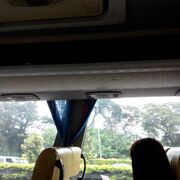 One-north is a 200-hectare business park in Singapore, developed by JTC Corporation to house R&D and high technology activities in the biomedical sciences, infocomm technology (ICT) and media industries. Though the development was first conceptualised in the National Technology Plan 1991,[1] it was only launched officially in 2001 by former Deputy Prime Minister Tony Tan Keng Yam with the basis of creating a "global talent hub" and a knowledge-based economy.[2]
One-north, which was master planned by Zaha Hadid Architects, is located at Buona Vista and near educational and research institutes like National University of Singapore (NUS), INSEAD and the Singapore Science Parks. In 2012, business school ESSEC also set up its Asian campus in one-north, for a total investment of S$40 million.[3] The district has easy access to social and recreational facilities due to the close proximity to Holland Village.
Besides being a "science hub" as Dr Tan described one-north at the launch, another aim is to create a community where expatriates and locals can gather to live, work and relax together in one-north.[4] As such, one-north will not be a government project only, but also one where private sectors contribute to provide the social and recreational amenities for the people working and living there.
Biopolis is a biomedical R&D hub at one-north. It houses public research institutes and private research organizations.
Biopolis Phase 1 is developed by JTC Corporation (JTC) at a cost of S$500 million. Phase 1 of the Biopolis comprises a cluster of seven buildings with a built-up area of 185,000 sqm (2 million sq ft). Phase 1 is home to more than 2,000 scientists, researchers, technicians and administrators. The research community is supported by infrastructure and services catering to biomedical R&D activities.
Phase 2 of the Biopolis comprised two research buildings, with a built-up area of 37,000 sqm (400,000 sq ft).
Phase 3 of Biopolis broke ground in April 2008. The research facility extends basic research activities into translational and clinical research as well as medical technology research.
The Star Performing Arts Centre
Edit
The Star Performing Arts Centre (Chinese: Template:Lang) is located in a mixed use complex called The Star which comprises the performing arts centre, a shopping mall, The Star Vista (Chinese: 星悦汇) and is the main worship venue for New Creation Church. . The Star PAC was completed in Oct 2012 and designed by Andrew Bromberg of Aedas Architects.
The 38,000-sq m performing arts centre, from Level 3 to Level 11, occupies almost two thirds of the building with a 5,142-seat performance venue. Aside from the main indoor concert hall, it also features a 770-seat function hall, an outdoor 300-seat amphitheatre, multipurpose rooms and a roof-top reception area.[5]
The concert hall was officially opened on 1 November 2012, with an inaugural concert by David Foster.[6] Template:Clear
Fusionopolis
Edit
Occupying 30 hectares of land within one-north, Fusionopolis is envisioned to be an R&D hub for infocomm technology, media, physical sciences and engineering industries.
Fusionopolis Phase 1, developed by JTC Corporation, is the first work-live-play-learn development in one-north. Opened in October 2008, it houses public agencies such as A*STAR, MDA and SPRING as well as private companies to foster collaborations across industries, research institutes and businesses.
Fusionopolis Phase 2A will yield 103,600 sqm of business park and R&D space, when completed. Phase 2A houses dry and wet laboratories, clean rooms and vibration sensitive test-bedding facilities.
Fusionopolis Phase 2B is a 50,000 sqm development by a private developer which will provide business park and laboratory space to house agencies and companies that would form collaborations with those from Phases 1 and 2A.
Block 71 Ayer Rajah Crescent, a decades-old flatted factory within Ayer Rajah Industrial Estate, was repurposed in 2010 by the Media Development Authority to be part of one-north. Externally, as the oldest building in one-north, it lacks architectural consistency with the rest of the development. Internally, however, it is one of Singapore's high-tech hubs, with dozens of digital startups and VC funds sited directly across the street from Fusionopolis and the one-north MRT.
one-north Park
Edit
One-north Park is a community park that is situated in the northern zone of one-north, near the Ministry of Education (MOE) at Buona Vista.
Background
Edit
One-north Park, totalling 16 hectares in land area, is a key component of the One-north Master Plan. It runs through the entire length of One-north, forming a continuous and linear green spine. The lush greenery and scenic landscape create an interesting contrast against the architecture of the buildings in the area.
The entire One-north Park consists of 13 land parcels. The land parcel adjacent to Biopolis (P5) is one of the larger sections being developed and has been open to the public since October 2005.
The park today serves as crucial relief space to the communities in the One-north area. It is also a meeting point for informal gatherings and events, thus promoting greater interaction and networking among the talents in One-north. The park also gives a unique visual identity to the area and acts as a green connector, linking the various developments in One-north.
Rochester Park
Edit
Launched in early 2006, Rochester Park, a part of one-north, is a heritage site located off North Buona Vista Road, featuring several double-storey black-and-white colonial bungalows, a symbol of Singapore's colonial past.
The estate has a long history with the 40 black-and-white bungalows built in the 1940s to accommodate the British military soldiers stationed at Pasir Panjang Military Complex and their families.[7] After the British military pulled out of Singapore in late 1971, the bungalows were handed over to the Singapore government who rented them out mainly to non-Singaporeans.[7]
Development
Edit
To provide cultural and recreational facilities for the people in one-north, Rochester Park has been revitalised into a dining and lifestyle retail hub. The old black-and-white colonial bungalows in Rochester Park have been conserved under the Urban Redevelopment Authority's conservation guidelines and are now leased to food and beverage and lifestyle retail tenants.
Rochester Park 11
Edit
Rochester Park 11 has 11 bungalows turned into a dining and lifestyle retail hub consisting of restaurants, galleries, and spas.[8] Nine units are taken up by restaurants and bars and a holistic healthcare centre.
Restaurants
Edit
One Rochester
North Border Bar and Grill offers south-western American cuisine.
Da Paolo Bistro Bar's serves Italian fare in a European setting.
Graze provides Western and Asian fare.
Min Jiang specializes in Chinese cuisine
Rochester Park 20
Edit
Rochester Park 20 is still in the midst of development but has set aside 20 of the bungalows to become a serviced villa resort with retail facilities.[9]
References
Edit
External links
Edit