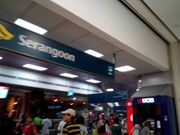 Serangoon Bus Interchange (Chinese: 实龙岗巴士转换站) is a bus interchange serving Serangoon in Singapore, and is within walking distance from Serangoon. Opened on 3 September 2011, it is the smallest air-conditioned bus interchange in Singapore with 8 services and 17 bus bays. It is also the second air conditioned bus interchange to open along the North East Line and the first on the Circle Line.
The need for a bus interchange at Serangoon arose in the mid-1980s with the development of Serangoon New Town. On 10th March 1988, Serangoon Bus Interchange opened along Serangoon Central, built underneath a multi-storey carpark (Block 264). This interchange took over the overcrowded Serangoon Gardens Bus Interchange and a temporary bus terminal along Serangoon Avenue 3. The spacious compound had both end-on berths at the East side and sawtooth berths (with a bus park) at the West side. Entrance and exit was located along Serangoon Ctrl.
Service 106 was shortened to Marina Centre Bus Terminal after some source revealed that it duplicates service 147 and North East Line entirely in 27 July 2003. Service 81 and 103 in the end shortened to this interchange.
When the shopping mall nex opened on 25 November 2010, the old bus interchange continued to operate due to congestion at Serangoon Avenue 2, carpark problems and large crowds in the shopping mall.
On 3 September 2011, it was relocated to the new bus interchange within the shopping mall directly above Serangoon, making it the fifth bus interchange to be air conditioned and the second along the North East Line and first along the Circle Line. The new facility was the first to have glass walls instead of cement walls facing the bus bays, allowing commuters to be aware of the departure of buses, which is what lacks in the earlier air conditioned bus interchanges.
Bus Services
Edit
| | | | |
| --- | --- | --- | --- |
| Service | Berth | Destination | Notes |
| 100 | B3 | Ghim Moh | |
| 101 | B3 | ↺ Buangkok Link | |
| 103 | B1 | Yishun | |
| 105 | B2 | Jurong East | |
| 109 | B2 | Changi Village | |
| 158 | B3 | ↺ Rhu Cross | |
| 315 | B1 | ↺ Serangoon North Avenue 5 | Feeder |
| 317 | B2 | ↺ Berwick Drive | Feeder |
Ad blocker interference detected!
Wikia is a free-to-use site that makes money from advertising. We have a modified experience for viewers using ad blockers

Wikia is not accessible if you've made further modifications. Remove the custom ad blocker rule(s) and the page will load as expected.