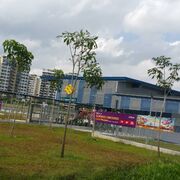 Tampines Bus Interchange
(
Chinese
: 淡滨尼巴士转换站) is a
bus interchange
serving
Tampines New Town
in
Singapore
. It is an open-air building located in the town centre near the
Tampines MRT Station
, with the allocated Blk 512. There are 24 bus services operating from the bus interchange, making it the 4th busiest bus interchange in Singapore.
Prior to the opening of the interchange in 1987, buses at Tampines New Town were served at Tampines Bus Terminal in Tampines Avenue 5 which was started in 1983. The bus interchange was refurbished in 2008 to make it wheelchair-accessible and allow the introduction of wheelchair accessible bus services.
Before the interchange came into operation, bus services in Tampines operated out of Tampines Bus Terminal located at Tampines Avenue 5, near the present-day Blk 938.
Built at a cost of $5 million and officially opened on Sunday, 29th November 1987, the Tampines Bus Interchange catered to the residents of Tampines New Town, and occupied a landsize of three football fields with 85 bus bays. The new interchange also took over operations from Tampines Bus Terminal. With an initial five feeder services and seven trunk routes, it now houses over 20 trunk routes and three feeder/townlink routes.
An annexe for Tampines Interchange (not to be confused with the upcoming Tampines North Interchange located at the future Tampines Street 62) was announced by LTA in late 2014 for completion in Q4 2015. The expanded concourse will be able to cope with higher volumes of bus movement operating out of Tampines Interchange.
Downtown Line
Edit
With the construction of Downtown Line, one end-on berth was cleared for construction works, which were part of bus service 8. Service 8 was relocated several times from A3 to B6 before reverting to A3. In addition, a new queuing area was set up for 31A which is easier to queue as there was a high demand for the stretch.
To facilitate the construction of the Downtown Line Tampines MRT Station, the west entrance and exit along Tampines Central 1 was relocated to the junction of Tampines Central 3 and the diverted Tampines Central 1 since 25 February 2012. This led to the construction of a sheltered alighting berth for the west concourse. Previously, only the alighting berth at B6 was sheltered. The west concourse bus services had to queue up to alight commuters there during inclement weather.
Around 4 shops including Singapore Pools which used to operate in Tampines Bus Interchange had to be demolished – which is Blk 513 Tampines Central 1.
The Concession Card Replacement Office is opened on the 24 August 2015.
On 27 December 2015, the existing interchange and Tampines Central 1 was re-instated.
A new bus interchange, Tampines Concourse Bus Interchange, opened in 2016. It reduced congestion at Tampines Bus Interchange. Services 18, 39 and 129 plies through Tampines Concourse Interchange.
Redevelopment
Edit
Redevelopment of Tampines Bus Interchange will start after Downtown Line completion in 21 October 2017. Under the Bus Interchange Enhancement contract PT290, bollards at the original concourse were changed in phases starting in November 2017. Berths were closed one at a time to minimize disruption to regular bus services.
Tampines Bus Interchange
Edit
Interchange Facilities (Existing Tampines Interchange and Tampines Gateway)
Edit
NTWU Canteen
McDonald's
Bengawan Solo
TransitLink Ticket Office
Interchange offices (SBST & SMRT)
Information boards and bus arrival displays
Service guide racks
Toilets
Bus routes
Edit
Route
Berth
Destination
Notes
3
B5
Punggol
4
B10
↺ Changi North Way
8
A3
Toa Payoh
10
B4
Kent Ridge
19
B9
↺ Changi Airfreight Terminal
20
B5
↺ Changi Business Park
22
B3
Ang Mo Kio
23
A1
↺ Rochor Canal Road
28
B10
Toa Payoh
29
B9
↺ Changi Village
31
B5
Toa Payoh
37
B8
↺ Changi North Crescent
38
B10
Bedok
46
A1
Upper East Coast
65
B3
HarbourFront
67
B5
Choa Chu Kang
68
B7
Pasir Ris
69
B8
↺ Bedok
72
B7
Yio Chu Kang
81
A2
↺ Serangoon Central
127
B10
↺ Tampines Ind Ave 5
291
B9
↺ Tampines Street 81
West Loop
B8
↺ Tampines Street 33
East Loop
292
B7
↺ Tampines Street 22
293
B4
↺ Tampines Street 71
West Loop
B3
↺ Tampines Street 45
East Loop
969
B4
Woodlands
Tampines Bus Interchange is located at Tampines Town Centre and serves the town of Tampines. Apart from connecting to Tampines MRT Station, it also serves many commercial developments and shopping malls in the area, such as Tampines Mall, Century Square, Tampines 1 and Tampines Regional Library.
| Berth | Services |
| --- | --- |
| A1 | 23 |
| A2 | 81 |
| B1 | Alighting Berth |
| B2 | Alighting Berth |
| B3 | 22 |
| B4 | 10, 969 |
| B5 | 20, 31, 31A |
| B6 | Alighting Berth |
| B7 | 72, 292 |
| B8 | 291 (East Loop), 69 |
| B9 | 291 (West Loop) |
Double Decker Buses
Edit
3, 4, 8, 10, 19, 20, 22, 23, 28, 31, 37, 46, 65, 67, 69, 72, 81, 127, 291, 293, 969
Tampines Concourse Bus Interchange
Edit
Tampines Bus Interchange will also have an annexe was announced in late 2014 for completion in 2016.
The expanded concourse will be able to cope with higher volumes of bus movement operating out of Tampines Interchange.
Equipped fully with barrier-free facilities, the Tampines Concourse Bus Interchange will have a dedicated boarding point and graduated kerb edges to facilitate boarding of passengers in wheelchair, and also have priority queues for elderly and disabled.
The Tampines Concourse Bus Interchange will house three bus services, such as services 18 and 39, and also a new service 129. Service 969 will be amended via Tampines Concourse instead of express via Central 1, Central 3 and Avenue 7. Service 127 also parallels service 72 but halfway through, and is there to relief service 72's load at Tampines during the evening peak hours.
The interchange facilities are:
Interchange offices (SBST)
Information boards and bus arrival displays
Service guide racks
Toilets
Baby changing room
Water coolers
Automated External Defillbrator (AED) as part of SGSecure nationwide movement
Mobile charging stations
Bus Services
Edit
| Bus Service | Destination |
| --- | --- |
| 18 | Bedok |
| 39 | Yishun |
| 129 | St Michael's |
| 298 | ↺ Tampines Street 86 |
Tampines Gateway
Edit
The bus interchange is going to be redeveloped as per needs of Tampines Gateway, one of the casino hubs. The likely site of the Tampines Central Temporary Interchange will be beside the extension complex as mentioned above. This will be done after the completion of the Downtown Line in 2017.
Wheelchair-Accessible Introductions
Edit
22 May 2007: 72
26 Oct 2009: 3, 293
3 Dec 2009: 291
28 Feb 2010: 29
7 Mar 2011: 18, 22
27 Jun 2011: 38, 39
26 Sep 2011: 19
3 Dec 2011: 292
26 Mar 2012: 10, 69
31 Mar 2013: 4
30 Sep 2013: 20
23 Mar 2014: 65
22 Jun 2015: 31
28 Sep 2015: 28
27 Jun 2016: 37