Ashford is a district in Tampines, Singapore.
​Overview
Edit
It is divided into several districts:
Ashford North, Blocks 101 - 114
Ashford Central, around Tampines Court
Ashford East, Blocks 124 - 127 and 272 - 299 & Angsana Primary School
Ashford West, Blocks 136 - 139
There is also Ashford Walkway Tunnel, which was being built in 2007, and the Ashford Timothy Railway which was being a heritage line using British Rail Class 121s, being started in 2004 and was demolished in 2010, because it runs parallel to the Tampines Line which was started in 2003. The Ashford Station was being built in 2004 so as to connect residents, together with Block 131 and Block 123 with few demand wise.
The Ashford Toll Expressway was being built in 2004 for passenger cars to go from Tampines Avenue 2 to Tampines Street 11, at the speed of 110km/h.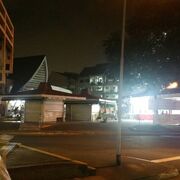 At the Ashford West, there is also Tampines Round Market, together with several coffeeshops in the vicinity. The gateball court was being built since January 2008 at the Ashford East. Residents can do their shopping at Tampines Block 107 and Tampines Block 138, known to the NTUC FairPrice in the vicinity.
There are several schools in Ashford area. These include - only two primary schools (Angsana and East Spring).
District Overview
Edit
Ashford East
Edit
The gateball court was being built since January 2008 at the Ashford East which is next to the Qiaonan Primary School. Angsana Primary School, formerly known as Griffiths Primary School started operations in 1987. Griffiths Primary School is used to be a visiting place for their society of distributing unused newspapers / or promoting the community on 31 August 2013. Angsana Primary School was renamed from Griffiths Primary School in 2015.
Ashford Central
Edit
At the Ashford Central, there is also the Ashford Convention Centre, which is also known to be - Tampines Changkat Community Club. It was used as a polling station in 2006 and 2011 general elections. The Ashford Central was supposed to have a shopping mall called Westfield Ashford, but the change of plans in 2010 resulted in aborting.
​Tampines Court
Edit
Main article: Tampines Court
National Convention Centre
Edit
Changkat CC is originally a community club that is built in 1984. It was renamed to Tampines Changkat CC in 2001 and it was redeveloped into National Convention Centre (NCC) in 2010.